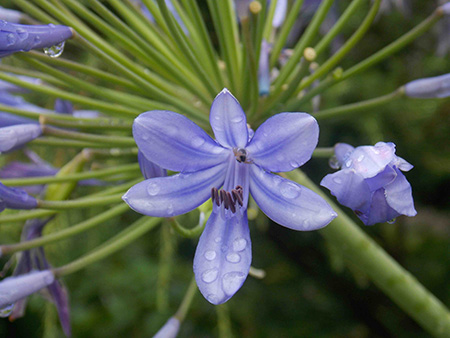 As I write this reflection, I am conscious it is the first day of Spring. During our first retreat since March, and which concluded yesterday, we experienced some beautiful, sunny days and those on retreat remained in good health. The pond and dams are full. The grass is lush. Ducks with new ducklings are paddling gently on the pond and cattle with their calves graze the paddocks, while wildflowers abound in the bush. Signs of new life and hope abound.
Against this background, there has been and continues to be immense suffering throughout our world. Second waves of Covid19 are rampant as the number of cases surpasses 25 million, with about 1.8 million occurring weekly. Deaths, including those in Victoria recently, are more than 850,000. Clearly, the pandemic is far from over. The experience has been unlike any that most of us have lived through. As we know, it has engendered much fear, uncertainty and even hostility.
We have also experienced the horrendous explosion at the port of Lebanon, that has wrought immense suffering in a country that has already endured so much hardship, grief, and loss. Other countries have experienced floods, fire, and hurricanes that have brought more suffering and loss of life. There has been an ongoing rise in right wing nationalism. Tensions continue to build between China and America. When so many poorer countries are struggling with the spread of Covid19, with limited resources, armed conflicts continue. It is very hard to understand how, in the face of the pandemic, such conflicts can continue, and the pandemic has not brought people and nations together in mutual care and support. While there have certainly been marked instances of such care and support, as we have seen in our own country, our world seems mired in conflict, division, violence, racial discrimination and injustice during one of its greatest 'hours' of need.
How are we to understand such suffering which is an ongoing reality in our lives? There is no easy answer to this question. To say suffering is a punishment wrought by God is a travesty of the truth of an unconditionally loving God, who weeps as the world and its people weep, and who yearns for all to have life to the full. Why then does God does not intervene? Any such intervention would be a betrayal of the incredible gift of freedom God has given us. God loved and loves us so much that God gifted us with freedom. What each of us does with that gift is our choice and ours alone and, indeed, our choices can cause suffering to others and harm our world as well as bring life and love. Hard as it may be to understand, God shares the grief and pain of those who are suffering and are with them in their suffering. Are we not called to do the same as we experience this mystery which is beyond our understanding?
In the gospel of last Sunday Jesus said to his disciples. "Whoever wishes to come after me must deny himself, take up his cross, and follow me. For whoever wishes to save his life will lose it, but whoever loses his life for my sake will find it." How paradoxical this is! Jesus had been trying to help the disciples understand that he would not only suffer but also die. This was because of his message and commitment to total love and to keep on loving to the end, no matter the consequences. Peter, on the other hand, immediately tried to dissuade Jesus from going to this fate in Jerusalem, only to have Jesus rebuke him and tell him he was thinking according to his limited, human way of thinking, not God's way.
At the heart of this tension is the struggle to live out of our true identity, as the Beloved of God, when our false selves try to avoid the vulnerability and limitations of our human condition – the experience of suffering, disappointment, humiliation, failure and the like. Yet, if we close ourselves to painful experiences and the 'letting go' to which we are invited, we will never learn to live fully. Jesus, I believe, was the only human being who embraced his full humanity with all its vulnerabilities and thus lived his life to the full including being able to be faithful to his mission of love that ended in death.
Like Peter in the gospel, we can so often live out of fear, at least at times, as I imagine many have done in recent months. Peter was afraid of what would happen to Jesus and maybe even the disciples, themselves. So, he tried to control the situation to avoid suffering, pain, and stress. He tried to dissuade Jesus from going to Jerusalem. Even though we know having control is illusory, we still cling to the hope that some things, that are important to us, we just might be able to control. The impulse within us is to have and to hold, to protect rather than let go and surrender, to want to control the uncertainty of the unknown, instead of trusting in God. We resist the daily 'dyings' which require a letting go of our self-image, or that of others, our unrealistic hopes, dreams and expectations or some hurt or injury to our pride with which we may be struggling. The fact is we are human, and like Peter, we think and act in limited ways. We do not like pain, suffering, frustration of expectations, uncertainty, disappointments, failure. Nor, indeed, should we seek them. When they are inevitable, however, to distance ourselves from such experiences is to turn our back on the opportunity of life and growth. In the gospel, Jesus is inviting us to fully embrace our human condition and to let go of our efforts to try and control or avoid what makes us feel vulnerable.
When we are assailed by fear or pain, we can tend to turn in on ourselves as we try and regulate our lives. Experience tells us that this is not life giving. It leads us into a place of darkness and disturbance. There is an alternative. In the face of suffering, and especially when our egos are wounded we can, with grace, turn our gaze to Jesus and encounter him in our fears and struggles: we can let him hollow the space within us, that may be tightly closed to letting go. As we allow Jesus to hollow more and more space within us, room is made for new life, true life, Jesus' own life, the now and not yet of eternal life that "laces eternity into our time." This can become the source of our living and loving.
Two incontrovertible truths can sustain us during times of fear, uncertainty, and suffering. We are God's Beloved and God will never leave us. Loved as we are, unconditionally, by God who is ever with us, we are held in tender love and care no matter the circumstance.
Let us long for such openness in our struggle to embrace, fully, our human condition and to live the life of the Beloved, as we pray in the words of last Sunday's alleluia verse: "May the Father of our Lord Jesus Christ enlighten the eyes of our hearts, that we may know what is the hope that belongs to our call."
May this burgeoning season of Spring bring renewed life, hope, and joy to each of us.
Pauline Compton fdnsc