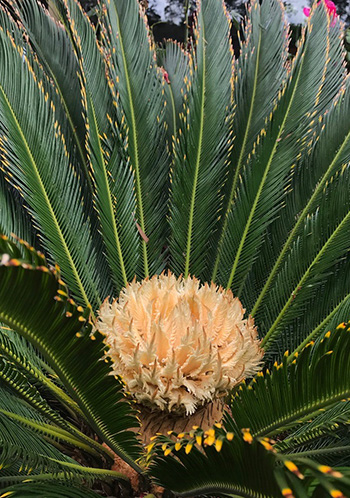 And Jesus increased in wisdom and in years, and in divine and human favour (Lk 2:52).
During our recent Advent retreat a retreatant spotted a huge flower in the centre of the large sago cycad just outside the dining room. The size of a soccer ball, cream coloured with green seeds just visible inside, it truly was a wonderful sight to behold. The flower will gradually die and over the next year the seeds will mature and turn dark red before being ready for propagation. I was amazed at its beauty and even more so at the fact that it must have been there for many months. I would have walked past that cycad many times a day and never stopped to look inside and see the flower emerging.
Once again the Book of Nature is our first teacher! How often do we go about our day, full of purpose, which no matter how good the intent might be, can blind us from moments of grace right beside our path. Yet this is life. Things grow slowly, hidden away. If we are aware, we will come upon them just in time to witness the beauty of their blooming. Luke reminds us that it was in his hidden years that Jesus increased in wisdom and in divine and human favour. Perhaps these continuing Covid times are our hidden years, an opportunity for us too to grow in wisdom.
One benefit of sitting at breakfast in the dining room as Covid monitor is the space to gaze at the cycad in the garden. One such morning this week, I was struck by some simple pink flowers growing beside it. The early morning rain had left drops on the leaves and flowers and this poem came to me…
I learnt a new flower name today
A rose by any other name….
Catharanthus Roseus, Madagascar Periwinkle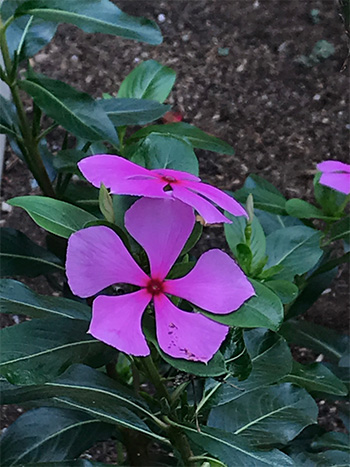 Our lives like raindrops
on the pink Madagascar Periwinkle
some transparent
some white as diamonds
all glisten in the light of dawn.
So may my life be today
a radiance by Your Love drawn.
By mid-morning raindrops gone
or so it seems at first glance.
But not really
only absorbed
entirely given over to the flower.
So may my life be today
transformed once more
by Your Love's power.
Come evening, raindrops now a memory
their glistening mimicked by the stars.
I thank you
and I sing for joy
for such gifts made free for all.
So may my life have been today
a praise of glory
answering Your call.
May you be alert to Jesus' presence in each day this year.
May your gaze be wide enough to notice the hidden.
And may your heart be always softened by the raindrops of grace, pure joy, pure peace, pure love…


mkv