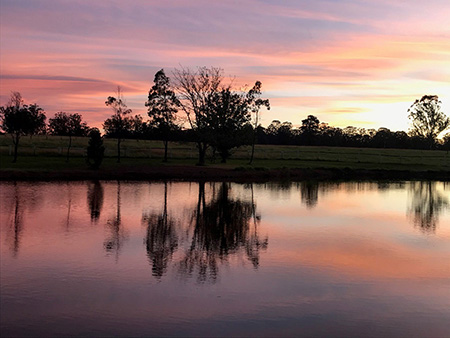 I often go to Parramatta Lake for a walk. One particular afternoon, my eyes were captured in delight by the reflection of the sunset on the lake. I sat down and watched it glimmering on the surface.
Whilst the sun was setting, the colours of the reflection kept changing. Gradually the sun sank gently and peacefully, and no matter how much I wished the reflection to remain with its beauty and colourful shimmering, it faded away. Perhaps you have had this experience, too. Holding onto something precious and wanting it to last.
This experience of wanting something to never end reminds me of what happens in our lives. Recently, we lost three dear Sisters. Two were sudden and unexpected deaths. Dealing with death and dying is very hard and especially so if one is alone. There are also many other losses in our lives, such as separation, estrangement from family and loved ones, change in residence, career change, ageing, illness, loss of mobility, loss of independence and the list goes on. We often deal unconsciously with some losses, yet at other times it seems as though we are in a boat facing wave upon wave on the ocean of life, struggling to reach safe harbour.
Over these recent months Covid-19 has created many stresses and losses which are causing grief. And now a new wave of COVID-19 is occurring. We are left wondering 'When will this coronavirus be over and we be able to live our 'normal' life once more?' We are caught up in very uncertain times which affect both young and old. Doubts, anxieties and fears can be a constant companion, and the joy and beauty of creation can sink out of our hearts unconsciously. Hope, too, can easily slip away.
At this time, perhaps we may ask ourselves: Am I strong enough to cry out "Lord, save us! We are perishing"? (Mt 8:25). If we continue to read the next verse, however, Jesus' reassuring question "Why are you afraid, you of little faith?" (26) can lift us up. Let us savour these words, and reflect on the questions: What is happening when we hear Jesus speak to us these reassuring words? Does my faith enable me to take heart?
Fr. Michael Fallon addresses 'fear' in his commentary on this scripture passage above. He reflects "There is another and more profound 'fear' which overwhelms us when we realise the tremendous distance that separates us from God. Out of this 'fear' faith can be born, so long as we do not sink into our own misery but cry out to Him who alone can save us. We are not to remain locked in this fear. Whatever might be happening around us and to us, Jesus, though apparently ignoring our cry, is there with us in the boat. He does care for us. He wants to save us"[1]. What powerful and insightful words to hold on to in times of stress and when grief and a sense of hopelessness creep into our hearts and spirits.
Let us cherish those precious gifts of faith, hope and love, and surrender ourselves to our God of Mercy and Compassion, recalling the Prophet Isaiah's assuring words: "Can a woman forget her nursing child, or show no compassion for the child of her womb? Even these may forget, yet I will not forget you. See, I have inscribed you on the palms of my hands" (Is 49:15-16).
Yes, the sunset simply ends the day and yet is paving the way for the next dawn. Just as surely, then, we can know that the sun's light and beauty will come again to us in yet another glorious way – at sunrise.
Katrina Zhang RSM
[1]Michael Fallon (MSC), "The Gospel According to Saint Mathew-An Introductory Commentary" http://mbfallon.com/matthew.html (accessed 5 July 2020 ) 141.